Welcome to D0lphin4na website!
Oh woah, i need some CSS here.
2021-12-20
Looks like the game Doukutsu Monogatari (Cave Story) is seventeen years old so it looks like i can say: Happy 17th anniversary Doukutsu Monogatari! I first played it for two years ago and i liked it. Oh and i also like the clouds in the game which can be found at the outer wall and the balcony. :)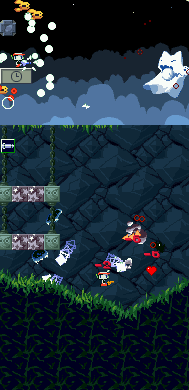 The image was taken directly from cavestory.org
2021-12-13
macOS is just a bootlegged *BSD :P (Not really though). Good night!
2021-12-11
Yesterday, the movie "Arashi no Yoru ni" turned sixteen!
To celebrate its 16th anniversary, i played its theme song on piano. I love this movie, the main character is memorable, the background is filled with colors, the soundtrack is just great and the movie is adorable. Be sure to watch this movie if you haven't.
I actually discovered this movie on november 30th when i turned on the television only to find some politics there. So i decided to turn on DVD/HDD player that can both play videos and record from television. (I will write more about this later...)
2021-12-09
CAT-SPLOSION video:
2021-10-15
Heres the source code for my may 2021 demo:
Download
It's my birthday! 2021-09-23
Today is my birthday! And i am happy about that :) I don't have much to put here but i want to share my music i made last year.
BottomDolphiClouds.ogg
OuterSpaceStation.ogg
sadcjcsdgach.ogg (Don't bother...)
Thank you for listening and have a good day. Happy birthday to me!
Outdated stuff
I got tha new site :D
Bye Microsoft Github pages XP
My old site!
test
lets take back // ignore this line of text :P